TARTAN ORTHOPEDICS, LTD.
10651 Irma Drive Unit C Northglenn, CO 80233 USA
Colorado call 303 287 1456 USA 1 888 287 1456 FAX 303 287 4739 International 011 303 287 1456
www.tartanortho.com e-mail dsanders@tartanortho.com
New Product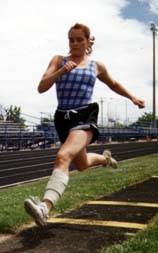 Click Here for more information
SHIN SPLINT
"Shin Splints" is an affliction known to most athletes as a pain originating along the shin. It is caused by vibrations in the shin resulting from athletic activity. The TARTAN Shin Splint alleviates this discomfort by compressing the calf to reduce the vibrations, improving circulation and pressing a neoprene pad along the shin to facilitate the healing process.
4999 Order Small or Large - Universal Right and Left Only $ 42.50
DESIGNED BY DR BRUCE LEE
Westminster, Colorado
TARTAN POWER PATELLA STRAP
The Patella Strap is improved with a new "shark skin" texture next to the skin to reduce migration. The exterior of the strap is velcro sensitive material making it the most adjustable and hence the most comfortable patella strap ever. The Tartan Power Strap has a unique second closure that allows for exact control of pressure and support. For versatility the rubber pressure pad is removable. A great choice for Osgood Schlatter. T4001 Universal Size $ 15.55

"The Perfect Fit" WRIST SPLINT
Get lace-up support with the convenience of elastic and velcro closures. The unique design conforms perfectly to the hand and wrist. It is constructed of a sturdy perforated vinyl and lined with a plush flannel. It has malleable dorsal and palmar steels. Together they restrain the hand in the dorsiflexion position. This splint is excellent for use on sprains.
308V order right or left S M L XL $ 17.20
May be ordered in a longer version : Wrist & Forearm Splint
3108V order right or left S M L XL $19.85