PELVIC TRACTION BELT - UNIVERSAL
This is a very versatile belt. It solves many inventory problems. One size fits all or most all. Extenders are available for the larger patients. It is constructed of a soft universal velfoam with generous hook and pile closures. It may be ordered for either single or double pull and in either 7" or 9" heights.
T2517 7" SINGLE PULL UNIVERSAL $ 29.12
T2519 9" SINGLE PULL UNIVERSAL $ 32.78
T2527 7" DOUBLE PULL UNIVERSAL $ 34.78
T2529 9" DOUBLE PULL UNIVERSAL $ 34.78
T2517E 7" EXTENDER LENGTHENS BELT 12" $ 9.74
T2519E 9" EXTENDER LENGTHENS BELT 12" $ 12.01
PELVIC TRACTION BELT - CANVAS
Manufactured from a sturdy Canton Canvas with a plush flannel lining, adjustable traction straps with slide buckles and "D" ring attachment. Made with generous hook and pile closures for easy adjustments. Available in six sizes.
T2542 7" DOUBLE PULL UNIVERSAL $ 37.78
XS 26-30 S 30-30 M 34-38 L 38-42 XL 42-46 XXL 46-50
Also may be ordered in a single pull
T254 7" SINGLE PULL UNIVERSAL $ 38.78
BUCKS TRACTION BOOT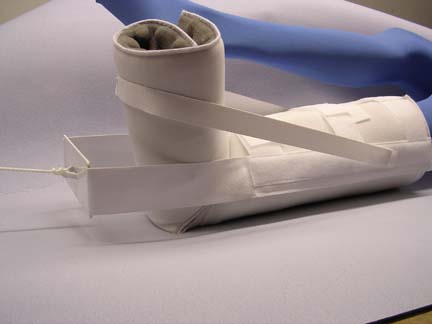 This is a leg traction device. Universal size Easy to use velcro closures with a convoluted foam interior to reduce bed sores. It also has a unique strap to help prevent foot drop. 8062U $ 42.53
BUCKS TRACTION MODEINSTRUCTIONS FOR USE
1. TRACTION FRAME ASSEMBLY: Unfold bottom section, insert pin A to lock. Slide top section into bottom section as illustrated.
2. PROPER PLACEMENT: Place rectangular frame underneath the mattress, between the mattress and the springs.
3. PATIENT: Always lie supine (on back) when using the unit. 4" blocks may be placed under the end of the bed for counter traction.
4. BUCKS TRACTION MODE: Attach bottom pulley to proper hole with screw B and secure the wing nut/ Pulley should be slightly above the foot.
(or as directed by the physician)
5. BUCKS TRACTION DEVICE: Supplied as a necessary accessory, is secured around the foot and lower leg, snug but, not uncomfortable or in such a manner to restrict circulation. The 1" webbing strap is provided as an aid against foot drop.
6. WEIGHT: Hang from supplied length of rope. Weight is adjusted by the amount of water in the bag.
7. SHOULD ANY UNUSUAL AMOUNT OF DISCOMFORT, PAIN OR ANY OTHER UNTOWARD EFFECT OCCUR, TREATMENT SHOULD BE DISCONTINUED. NOTIFY THE DOCTOR IMMEDIATELY.
The traction unit should not be used by an unattended individual.
The bed traction unit is to furnish traction in conditions where the physician has prescribed the use of such traction together with complete instructions to the patient on its use.
Manufactured in the U.S.A.TARTAN ORTHOPEDICSTARTAN ORTHOPEDICSwww.tartanortho.com
BED TRACTION APPARATUS (click here for picture and instructions)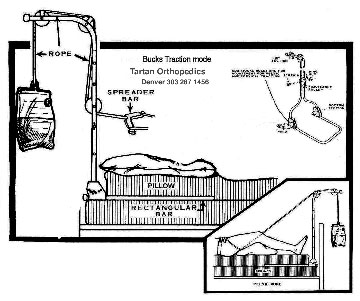 The portable bed traction unit is very useful for home health care. It fits under the mattress for support .
Catalogue # 80622 $ 143.22
The traction apparatus may be ordered separately or as a kit in combination with the Bucks Traction device. The cost of both as a kit is $172.51. Order as Catalogue #8062kit.